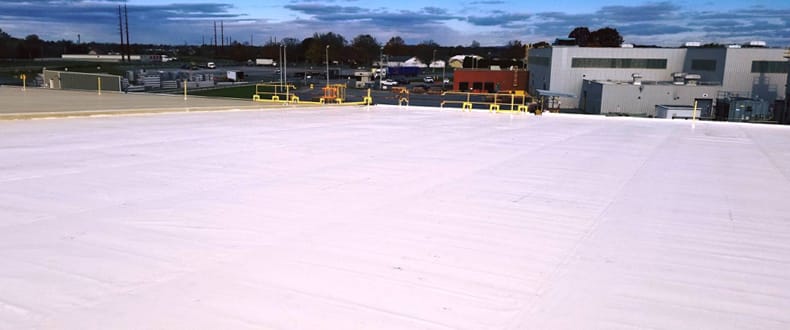 The technology behind the FiberTite roofing membrane places it in a class of its own. Currently, FiberTite is the only single-ply roofing membrane that meets the stringent ASTM D6754 standard, which requires the proper utilization of Dow ELVALOY™ Ketone Ethylene Ester (KEE).In order to break it down and do a comparison with other roofing products on the market, let's start by comparing the facts about FiberTite to these three roofing products: polyvinyl chloride (PVC), thermoplastic polyolefin (TPO) and polymer modified bitumen roofing systems, also known as Mod Bit.
1. The base fabric is the heaviest in the industry. Along with the proprietary knit design, FiberTite membranes have superior puncture and tear resistance.
Compared to PVC & TPO:
PVC roofing and TPO membranes generally forgo the expense of using "fiber" as an internal puncture barrier in favor of using mass or thickness to provide the illusion of durability. Thicker PVC roofing membranes are no match for FiberTite's internal "fiber" barrier.
Compared to Mod Bit:
Modified bitumen roofing systems are generally afforded good puncture resistance through their mass and multi-ply reinforcement. But considering the sun can heat and subsequently soften the materials, the puncture resistance and impact strength are reduced. General foot traffic can displace the surface.
2. The proprietary formula includes the industry's optimal KEE content, allowing FiberTite to maintain excellent flexibility and chemical and UV resistance.
Compared to PVC:
Numerous chemicals, greases, fats and environmental contaminants accelerate the extraction of liquid plastisol, decreasing the longevity of the PVC roofing membrane. Most PVC membrane manufacturers specifically exclude "exposure to chemicals" from their warranties. UV exposure can break down even marginally fire-retardant PVC materials.
Compared to TPO:
Like PVC, UV exposure can also break down TPO roofing systems. When exposed to common environmental contaminants, TPO exhibits similar characteristics to EPDM membranes. Exposure to fatty acids, oil, grease and jet fuels promote swelling of the membranes. Long-term exposure can lead to eventual softening and deterioration of the membrane. Most TPO membrane manufacturers specifically exclude "exposure to chemicals" from their warranties.
3. The ELVALOY™ Ketone Ethylene Ester content in a FiberTite membrane meets the new ASTM D6754 standard.
Compared to PVC:
Conventional PVC roofing membranes require a 20 to 25% liquid polymer content by weight to achieve flexibility. The difference between the low molecular weight plastisol and the high molecular weight PVC resin create flexibility but also creates a weak link.
The issue with PVC roofing membranes is plasticizer migration. Heat, UV and rain will draw these plasticizers out over time. The result is a less pliable roof membrane that is prone to damage from thermal shock, foot traffic, hail impact and wind. To compensate for the loss, PVC membranes tend to be thicker, providing a larger reservoir for the retention of plastisol and hopefully extending the time it takes for the plasticizers to migrate away.
Compared to TPO:
A basic TPO compound is inherently inexpensive. They often claim to be internally plasticized and therefore immune to the plasticizer loss associated with conventional PVC roofing membranes. However, additives are required to impart fire-resistance properties to the finished membrane. This not only aggravates cost, but usually increases susceptibility to UV exposure. Balancing cost with long-term weatherability and a basic building code life safety requirement such as fire resistance continues to the fuel the need for "new and improved" version. Many manufacturers with multiple formulations and variation do yield a variety of choices. Unfortunately, the ASTM TPO standard is a consensus of evaluations based upon the lowest common denominator among the multitudes instead of proven performance.
Compared to Mod Bit:
Mod Bit is asphalt blended with pellets or powders of atactic polypropylene (APP), styrene-butadiene-styrene (SBS), styrene-ethylene-butadiene-styrene (SEBS) or, for self-adhering systems, styrene-ethylene-propylene-styrene (SEPS). It's kind of like reading a food label with a lot of ingredients that you can't pronounce and deciding it's not going to be good for you. The polymers disperse within the asphalt to form particles of polymer in a continuous asphalt matrix. A "phase inversion" reverses the blend to form a polymer matrix with particles of asphalt. The asphalt and "modifiers" are not generally mixable, yielding a mixture similar to salad dressing. Over time, the two phases of the emulsion tend to separate and overall dispersion decreases.
4.
FiberTite single ply-roofing membranes were invented almost 40 years ago by Seaman Corporation, a recognized world leader in coated fabrics.
The use of asphalt in built-up roofing has been around since the late 1800s. Mod Bit was introduced in 1965, and by the 1970s dominated almost 80% of the roofing market. Not far behind, PVC was introduced. In 1990, a new player entered the market: TPO. FiberTite, TPO and PVC began taking market share from built-up roofing systems and by 2005 single-ply held over half of the market. So which single-ply membrane is best for you? Today, FiberTite is selling the same product as 35 years ago and building confidence with specifiers through a documented history of performance. As experts in the industry, FiberTite has built a strong reputation with high-profile customers and continues to demonstrate core values.
The Bottom Line:
FiberTite vs. PVC:
The technological expertise of FiberTite can be discerned as easily as night and day when compared to PVC.
FiberTite vs. TPO:
FiberTite is tried-and-true and TPO is always new and "improved."
FiberTite vs. Mod Bit:
FiberTite has proven performance and Mod Bit provides a veiled sense of security.
Complete competitive comparisons are available by clicking the links above or visiting our competitive comparisons page online.
ELVALOY™ is a trademark of The Dow Chemical Company ("Dow") or an affiliated company of Dow.