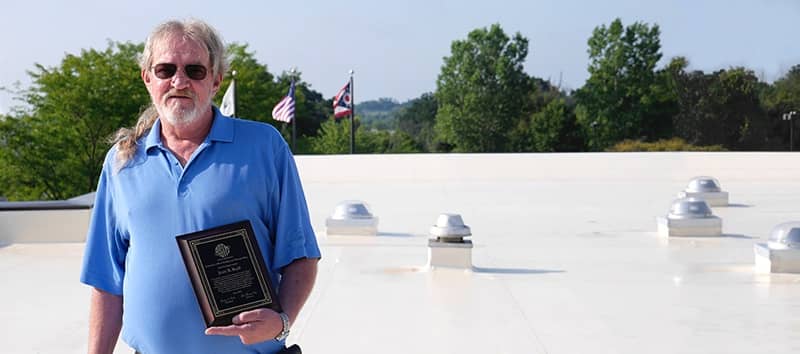 Wooster, OH (August 9, 2016) – On June 27, 2016 the ASTM International Committee D08 on Roofing and Waterproofing recognized Jerry Beall, FiberTite Product and Technical Specialist at Seaman Corporation. He was the recipient of an award of recognition for his outstanding service and dedicated support to the Committee and Subcommittee D08.18.

As Chair of the Task Group on Ketone Ethylene Ester (KEE) based sheet roofing, Jerry contributed to the development of a test method for determination of KEE content in sheet membrane using Nuclear Magnetic Resonance (NMR). "A great deal of research and development has gone into finding a test method to determine KEE content," said Beall. "Turning that test method into a standard recognized by the ASTM remains a challenge." The standard specification defines that the KEE terpolymer shall be a minimum of 50% by weight of the terpolymer content of the sheet. To date, FiberTite is the only roofing membrane that meets this standard.
Beall's career in the roofing industry spans more than 40 years. He uses his field experience, studies and interest in leadership, product development, marketing and strategic visioning to support a nationwide team of sales, technical and manufacturing representatives. In addition to being Chair of the ASTM KEE Task Group, Beall is past President of the Chemical Fabrics and Film Association (CFFA), and an active member of RCI. He holds three patents for his work in color extruded rib profile, an apparatus for welding a synthetic strip to a roofing membrane (rib), and WrapidFlash™ Molded Pipe Flashing.
Seaman Corporation, manufacturer of FiberTite Roofing Systems, has been a worldwide market leader of innovative, high performance coated fabrics since 1949. Using a unique, four layer technology providing puncture, UV, chemical, and ponding water resistance, FiberTite is the original Elvaloy KEE membrane with a 35+ year history of performance.
Seaman Corporation has manufacturing locations in Wooster, Ohio and Bristol, Tennessee. In addition to FiberTite, Seaman Corporation also makes fabrics for more specialized markets, including military, dock seals, marine applications, pool covers, truck tarps, mower covers and others.
For more information, contact Seaman Corporation at 330-262-1111 or toll-free 800-927-8578, or visit www.FiberTite.com.
ELVALOY™ is a trademark of The Dow Chemical Company ("Dow") or an affiliated company of Dow.