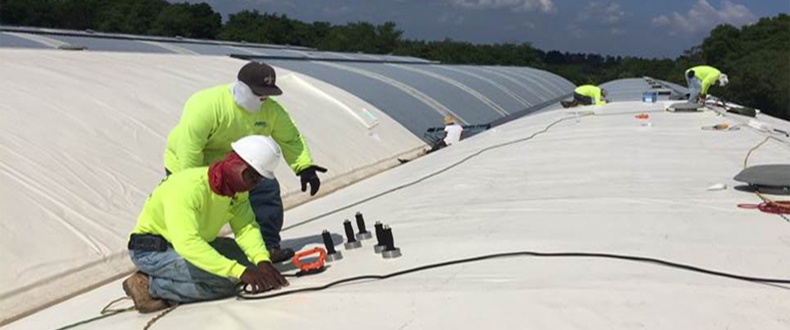 ASTM D6754 Standard Specification for Ketone Ethylene Ester (KEE) Based Sheet Roofing was adopted and published in 2002. The standard offered an alternative to PVC thermoplastic roofing membranes that had been established under the ASTM D4434 Standard Specification for Poly (Vinyl Chloride) Sheet Roofing.
The KEE standard was unique in that it offered an alternative technology platform to manufacture a membrane compared to conventional liquid plasticized PVC roofing. In particular, the membrane utilized a heavy polyester reinforcement and was coated to a minimum thickness of 0.031 in. thick. The debate regarding the membrane's thickness existed well before the adoption of the standard and continues to this day.
The issue that became even more problematic was the contention that language in the standard defining a "KEE" membrane did not offer a method for verification. The language defining a KEE membrane within the ASTM D6754 is as follows:
4. Materials and Manufacture
4.1 The sheet shall be formulated from the appropriate polymers and other compounding ingredients. The KEE polymer shall be a minimum of 50% by weight of the polymer content of the sheet.


KEE is a proprietary ethyl vinyl acetate carbon monoxide terpolymer with a very high molecular weight. The polymer is miscible with PVC and yields a polymeric compound that exhibits excellent chemical resistance when compared to conventional plasticized PVC compounds.
There was no publicly available analytical technique to accurately quantify the content of KEE in roofing membranes. The absence of a consensus on the best method to test the membrane's KEE content more or less placed the standard in jeopardy. Several techniques including thermogravimetric analysis (TGA), Fourier-transform infrared spectroscopy (FTIR) and Raman spectroscopy have been applied to determine the content of KEE, however, none of them provided the quantification with enough accuracy to meet the needs of the standard.
Seaman Corporation sponsored three research projects with the National Research Council Canada (NRCC) over the last four years to examine the suitability of using nuclear magnetic resonance (NMR) to accurately determine the content of KEE in various PVC/KEE blends.
NMR can determine the resonance or change in frequency of different molecules when exposed to a magnetic field. The research and testing of various blends of KEE and PVC demonstrated accuracy within +/- 10% of the actual blend ratio. The biggest impact on the accuracy is the effectiveness of a purification process to eliminate interference in the NMR scan due to a host of compound additives that include ultraviolet light inhibitors, heat stabilizers, fire retardants, fungicides and other processing aids.
Once repeatability of the test methodology was established, a test method was written and balloted through ASTM in October of 2016. The test method was approved and assigned ASTM D8154-17 Standard Test Methods for 1H-NMR Determination of Ketone-Ethylene-Ester and Polyvinyl Chloride Contents in KEE-PVC Roofing Fabrics.
The new test method can be obtained at www.astm.org.