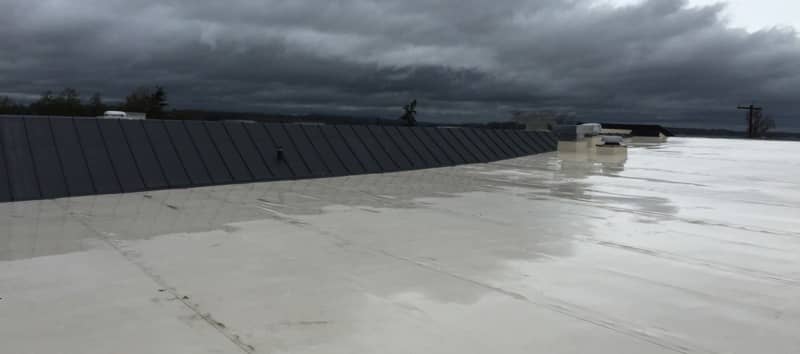 Hurricane season occurs between June 1st and November 30th every year. While not all hurricanes are as devastating as Hurricane Katrina or Hurricane Sandy, hurricanes still leave a good amount of damage in their wake. This includes damage to roofing systems. These incredible wind events can tear roofing systems apart and take an incredible toll on both your building and your wallet. Luckily, there are several steps you can take before, during, and after a hurricane to help protect your roofing system.
The Calm Before the Storm
You should begin taking actions to prepare your roof for a hurricane well before the hurricane is scheduled to hit. Start by finding and reviewing both your roofing system warranty and insurance policy. Although the warranty does not ensure that your roof will withstand the hurricane, it is an important piece of information to have in the event serious damage occurs. If you think additional insurance coverage might be needed, be sure to reach out to the appropriate parties sooner rather than later.
Next, take photos of your roofing system. These images will come in handy after the storm when you are documenting any damages. While on your roofing system you should:
Remove loose objects from the roofing system
Secure HVAC units and exhaust/intake fan covers
Clean all interior drains and remove blockages
Check edges and flashings to ensure they are secured properly
If you have skylights, cover them with plywood or a metal cap
If you haven't conducted a regular maintenance check prior to hurricane season, it is advisable to schedule one immediately. You'll be able to fix any current damages to your roofing system that might cause it to be even more susceptible to the potential rain and wind damage on the horizon.
During the Hurricane
Your number one priority during a hurricane is to protect yourself. Make sure you are in the safest space possible for yourself (and your employees if applicable). Look for a windowless, interior room to take shelter. If this space happens to be in your commercial building, then you have the ability to periodically check for any internal signs of roof damage. Again, your safety is most important during this time, so don't check for leaks and other failures if it could put you at risk.
Navigating the Aftermath
Once the storm has passed, it is time to assess the status of your roofing system. It is of the utmost importance that you use a high level of caution when inspecting your building and roofing system after a hurricane. You should also not attempt to make any fixes to your roof or building on your own. Instead, call your insurance agency to begin the claim process. Again you'll need to take photos of your roofing system in order to provide a side by side comparison for your agent.
Your next call should be to your roofer / contractor. This individual or team will be able to accurately assess the damage done to your roof by the hurricane and recommend the next best steps. Watch out for frauds! Unknown contractors tend to appear in the wake of traumatic storms, so be sure you are only talking to and paying your trusted advisors.
What other steps do you take to prepare your roofing system for hurricane season? Tell us about them in the comments.