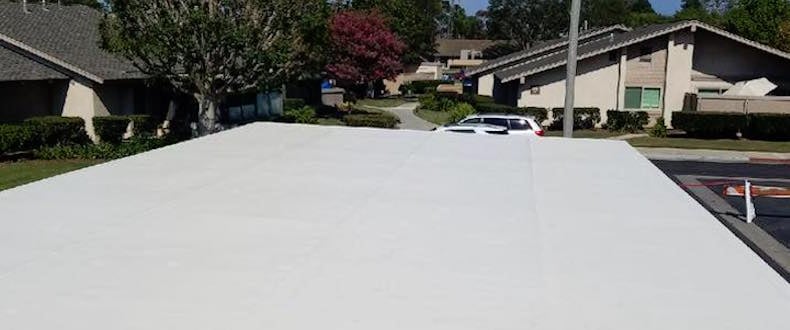 Replacing a roof can feel like a daunting task, and with dozens of options between different materials, contractors and systems, the choices can feel overwhelming. Breaking down your priorities and understanding the pros and cons of various systems can make the choice much easier.
Here we'll lay out what we most often see as deciding factors for customers who are selecting a roof using a real-life example.
The Huntington Landmark is a 55+ community near the Pacific Ocean in Huntington Beach, California. The roofing on their parking garages had failed, leading to costly structural damage. The homeowners' association needed a roof that could stand up to the moist and salty air and protect their garages for decades to come. They worked with FiberTite and Roofing Standards, Inc. to find the best option.
Usage
Consider the environment the roof will face, whether it's seaside like Huntington Beach, a hurricane zone, or an area with heavy snow, etc. Make sure the material you choose is proven reliable in these elements. If it has trees or other items that could leave debris and/or will face maintenance workers walking on it regularly, puncture resistance is an important consideration. Also consider the cost of failure. It may well be worth more to get the best solution. For the HOA, past roofs had failed badly after just 15 years. They needed something that could stand up to the environment and provide peace of mind.
Price
Price is a key consideration on any construction project, and roofing is no different. On large commercial jobs, it can be difficult to parse out various features and benefits. In the case of roofing materials, material cost is just one part of a total lifetime cost. Installation costs, maintenance costs and the effective lifetime of the roof should all factor into your overall math.
You may even want to consider the cost of failure. In the case of the HOA, failure caused expensive structural damage that dramatically increased the project cost. For some customers like a hospital or a sensitive manufacturing plant, a simple leak could lead to temporary shutdown of operations and costly repairs.
Don't be blinded by the "cheapest" option without fully evaluating it.
Warranty
It's important to look beyond that simple number of years on a warranty. Make sure the company has a track record and can stand behind its products. Make reference calls. Look at the longevity of roofs that were installed 20-30 years ago. Can they show you examples of similar roofs in similar environments working well beyond the warranty period? Track record and customer support matter at least as much as a piece of paper with "warranty" written on it.
Other considerations
If color and appearance matter, find a provider that can make a range of options that suit your needs. Additionally, if it is a rush job or the customer prefers a domestically made option, it may be important to choose a material made in North America.
Every roofing job is different and so is every customer. That's why it's helpful to review this list and think about what's most important. We're proud that the Huntington Landmark HOA ultimately chose 36 mil FiberTite, and we're even prouder that it was based on a strong recommendation from an outstanding contractor like Roofing Standards. We truly believe it was the best solution for this job, and it wasn't even the most expensive. In fact, the HOA was ready to pay more for a competitor, but saw FiberTite roofs working well past 30 years of age, which helped make the choice an easy one.
If you're evaluating various aspects of a roofing job, give FiberTite a call to get help working through the process.