Color options, durability and reputation made FiberTite® the logical choice for the 10,000-plus-capacity venue.

Name: Crown Coliseum
Installed: 2019
Location: Fayetteville, NC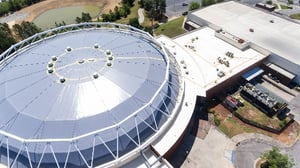 Since its construction in 1997, the 10,880-seat Crown Coliseum has been the heart of entertainment in Fayetteville, North Carolina. Twenty-two years after its construction, its owners, the Cumberland County Civic Center Commission, needed to replace its original PVC membrane roof, which was showing signs of age and fading.
The commission initially considered replacing the roof with the same material from two different companies — before ultimately choosing FiberTite ELVALOY™ Ketone Ethylene Ester Membrane for its color options, long term color retention and reputation for durability.
Bidding Criteria




"The coliseum is a publicly owned building, so multiple bids were required for the project," said Rosanna Tucker, a project manager for Fleming & Associates, a Fayetteville-based architectural firm that advised on the project.
During the bidding process, Tucker and her peers were primarily looking for a mechanically attached roofing membrane that was watertight and could effectively withstand the test of time.
"Our role is to look after the owners' interest. We chose only membranes that were up to the task and bid it out to three companies," Tucker said. "We sought membrane manufacturers that made the materials themselves and offered a warranty with a track record proving they could stand behind it." She added that bidders had to meet distribution needs in a timely manner given the size of the job.
Feeling Blue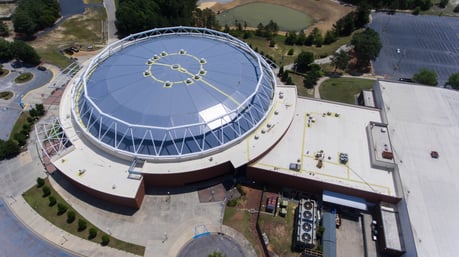 Color turned out to be a significant consideration because the coliseum's unique design makes its roof highly visible. The coliseum's owners wanted an attractive blue roof that complemented the rest of the facade. FiberTite's Salem Blue color caught their attention.
The existing PVC membrane had faded over time and its manufacturer couldn't ensure that it would not happen again — however, FiberTite could.
The need for an aesthetically appealing and extremely effective roofing membrane was a key factor in selecting FiberTite for the roughly 150,000-square-foot job, said Tucker. FiberTite comes in an array of colors and has exceptional resistance to fading and weathering. FiberTite was the only bidder who could offer the assurance of a color that lasts, backing it with a 20-year warranty.
Performance Matters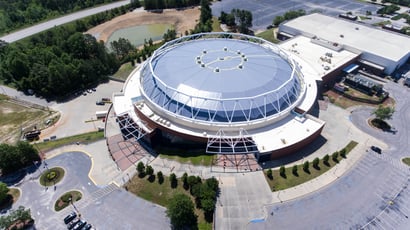 Good looks only go so far. The coliseum's new roof also needed to withstand a demanding environment — that faces hurricanes, hail, high temperatures and above-average UV exposure — for decades. FiberTite's proven track record provided assurance, Tucker said.
Not only is the coliseum an important entertainment venue, but it's also a part of the county's emergency preparedness infrastructure. The membrane cannot fail in the face of challenging weather.
"For as long as we've been designing roofs, we've used FiberTite," said Tucker. "It's such an important building for the county and emergency services that we would only recommend options that they can count on."
Further bolstering FiberTite's reputation for quality service, the Crown Expo Center adjacent to the coliseum commended FiberTite on their technical support and service. When the commission saw how the team stood behind their product after many years of service, it further cemented their manufacturer choice for the coliseum.
Expert Installation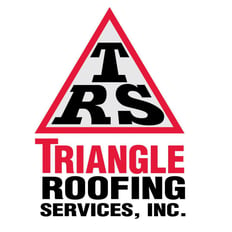 Triangle Roofing Services installed the FiberTite roofing membrane, using a 60-mil mechanically attached membrane. Fayetteville is susceptible to powerful hail, so the thicker membrane was selected for added protection.
"We've used FiberTite for years and have always found it to be a good membrane," said Brad Shaltz, Triangle's project manager on the job.
Two high-wind events during the installation reinforced the need for exacting installation. Triangle worked with FiberTite Technical Services to ensure the installation had the right rating for hurricane-force winds.
The project was inspected during and after installation — this was particularly important because the roof design is unusual, with unique flashing points. Although it was not a tear-off and was a typical mechanically attached membrane using standard fasteners, the full installation took about four months due to the tricky shapes and accuracy required in covering a dome with so much fabric roofing.
"We worked with the FiberTite technical team to ensure everything was done correctly," Shaltz said. "FiberTite delivered everything on time. It worked really flawlessly, even on a project this large."
Triangle Roofing Services President Chris Hughes said he was pleased with the outcome of this job and has come to expect great things from FiberTite.
"This was a really good high-profile project," Hughes said. "We've done quite a bit of FiberTite in the past few years. At this point, it is the majority of what we do."
To view a PDF version of this Project Profile, click to download.