Good Samaritan Medical Center, one of the Exempla Healthcare Hospitals, is located in Lafayette, Colorado.
Project Details: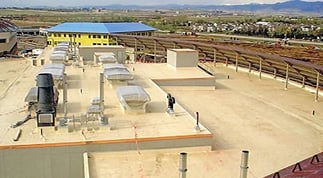 Name: Good Samaritan Medical Center
Dates: Installed in August, 2004
Location: Lafayette, CO U.S.A.
Project Story:
To select the best roofing system for their new facility, Good Samaritan Medical Center hired an architect, who initially recommended an EPDM system. According to Tom Ghidotti, FiberTite's Western Region District Manager, "The Project Manager insisted on using FiberTite, due to a history of success dating back to the early 90's."
FiberTite was previously installed on Exempla's Lutheran Medical Center and St. Joseph Hospital. "Since they had many leaks, they decided to re-roof these buildings with FiberTite due to its proven longevity, low maintenance, energy savings, chemical resistance and impact resistance from hail," said Tom. "In particular, they were having problems with grease generated by cafeteria exhaust." In both cases, FiberTite was installed over a built-up roof system. Roof Check, Inc, a roofing contractor with over twenty years experience with industrial warehouses, hospitals and schools, was hired to install FiberTite on the new Good Samaritan hospital.
The unique properties of FiberTite Fleeceback, which includes Dow ELVALOY™ Ketone Ethylene Ester as the base terpolymer, allow it to be installed with hot asphalt. "Installing in hot asphalt proved to be a less costly alternative to installing other membranes, which would have required more costly adhesives or mechanical fasteners," stated Steve Cain, president of Roof Check.
FiberTite was introduced in 1979 by Seaman Corporation, a company that has also been a leader in many other markets, some for more than 65 years. These markets include architectural fabric structures, geomembranes, truck tarps, dock seals, military collapsible fuel tanks and military tents.
To view a PDF version of this Project Profile, click to download.
ELVALOY™ is a trademark of The Dow Chemical Company ("Dow") or an affiliated company of Dow.