FiberTite 30+ Year Roof Passes Moisture Inspection
Project Details:
Name: Rubbermaid, Inc. - Statesville
Date: 1984
Location: Statesville, NC
Project Story: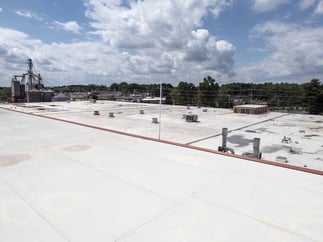 Over the past 30+ years, FiberTite Roofing Systems have been installed at many Rubbermaid facilities across the country. In 1984, the Statesville, NC location installed over 180,000 sq. ft. of FiberTite. Five years later, an additional 48,000 sq. ft. of FiberTite was installed on a new addition. Over 30 years after these roofs were installed, Jim Stone, President of Jim Stone & Associates examined this roof and said, "This has outlasted every roof that I've been involved in." As experts in the roofing industry, Jim Stone & Associates often recommend and specify FiberTite Roofing Systems.
The longevity of this roofing system was confirmed when Scott Hinesley, President of REI Engineers, performed an infrared survey of the roof to inspect for moisture damage. REI Engineers, one of the largest consulting firms specializing in building envelopes in the Eastern United States, concentrate on designing fixes to buildings that incur damage caused by excess moisture. After inspecting both roofs, REI Engineers found no wet insulation due to the durability of the FiberTite membrane.
"We like to align ourselves with manufactures that not only provide good products, but provide good service and consistency of products," Hinesley said.
The proven performance in puncture resistance, durability and moisture protection supports the longevity of this roofing system. "Over the lifecycle of this roof, it was anywhere from 10-30 percent less expensive," says Stone, when referring to the incremental cost savings as a result of the performance.
Seaman Corporation, manufacturer of FiberTite Roofing Systems, has been a worldwide market leader of innovative, high performance coated fabrics since 1949. Using a unique, four layer technology providing puncture, UV, chemical, and ponding water resistance, FiberTite is the original ELVALOY™ KEE membrane with a 35+ year history of performance.
Seaman Corporation has manufacturing locations in Wooster, Ohio and Bristol, Tennessee. In addition to FiberTite, Seaman Corporation also manufacturers fabrics for more specialized markets, including military, dock seals, marine applications, pool covers, truck tarps, mower covers and others.
ELVALOY™ is a trademark of The Dow Chemical Company ("Dow") or an affiliated company of Dow.