Spangler Candy Trusts FiberTite Roofing Systems to Protect Their Food Processing Plant
Project Details: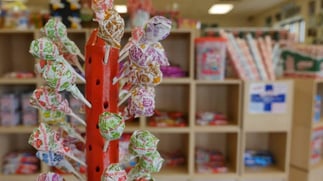 Name: Spangler Candy
Dates: 24 installs since 1998 totaling over 400k sq. ft.
Location: Bryan, OH U.S.A.
Project Story:
Spangler Candy, located in Bryan, Ohio, is home to many of America's favorite candy. Since 1906, this family-owned company has been making lollipops, candy canes, and marshmallow candies. They manufacture nearly 12 million Dum Dums® per day, one of their most recognized brands. All of their candy is distributed throughout the United States and to many international countries. Tours of the facility offer visitors an opportunity to learn how the candy is made and packaged.
Food safety is a top priority at Spangler Candy. The food processing industry demands that manufacturers take every precaution to provide a safe environment and follow recommendations to reduce the risk of a devastating food safety event. As the most important issue any food company faces, incidents are largely avoidable if proper design and construction materials are in place. Paul Gackel, Director of Process Improvement at Spangler Candy says, "We need to provide a safe product for our customers. That includes making sure our product is kept from any contaminants." Knowing the risk of a potential roof leak, Spangler Candy began replacing the roof on their 400,000 sq. ft. facility in 1998. They chose a FiberTite Roofing System by Seaman Corporation for one of their first installations of nearly 85,000 sq. ft. "We can't run an operation if we have roof leaks," says Gackel. "We feel as though FiberTite has given us a good advantage to keep away from that situation."
Spangler Candy has continued to work with FiberTite because it is a product and relationship they can trust. Since the initial installation, they have installed over 300,000 additional sq. ft. of FiberTite roofing. "FiberTite knows our needs," said Gackel. "They provide us with material, unlike EPDM, that is more resistant to rips and tears, and helps us maintain a good watertight environment." Spangler Candy has trusted FiberTite for 18+ years. The roof is resistant to the tacky exhaust from the candy manufacturing process, as well as UV exposure in the summer and sub-zero temperatures in the winter. Most importantly, the FiberTite Roofing System ensures a safe, leak-free environment for their food processing plant.
Seaman Corporation, manufacturer of FiberTite Roofing Systems, has been a worldwide market leader of innovative, high performance coated fabrics since 1949. Using a unique, four layer technology providing puncture, UV, chemical, and ponding water resistance, FiberTite is the original Elvaloy KEE membrane with a 35+ year history of performance.
Seaman Corporation has manufacturing locations in Wooster, Ohio and Bristol, Tennessee. In addition to FiberTite, Seaman Corporation also makes fabrics for more specialized markets, including military, dock seals, marine applications, pool covers, truck tarps, mower covers and others.