FiberTite® KEE TuffTrac
FiberTite TuffTrac is a high strength, textile-reinforced walkway designed to improve slip resistance, promote positive traction, and offer protection from potential damage caused by dropped tools or mishandled equipment.
TuffTrac is made with the proprietary Seaman Corporation ELVALOY™ Ketone Ethylene Ester (KEE) formulation and embossed with a low profile diamond plate design.
Benefits

Features

Roof Membrane Protection
Compatible with KEE roof membranes
Quick to Install
Contours to the roof structure
Hot-air welded directly to membrane

Diamond plate design
Durable one-piece construction
Supplied in 100' rolls (30" wide x 100' long)
Made from flexible KEE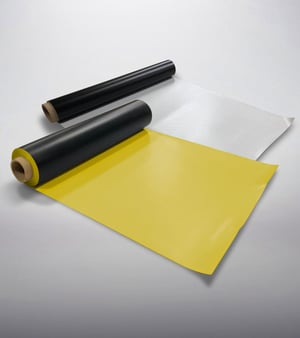 Rolls of TuffTrac Walkway can easily be cut io various shapes or sizes to facilitate most applications. The material is also designed to be continuously hot-air welded directly to the FiberTite Roofing Membrane.
FiberTite currently stocks rolls of TuffTrac 30" wide x 100' long, available in high visibility yellow or gray colors.
Resources
*Tests at the University of Hertfordshire, School of Aerospace, Automotive & Design Engineering showed Crossgrip PVC When laid flat on a stable platform remained in position for wind speeds of 94 mph (150 km/h).