FiberTite® Crossgrip Roof Walkway System
FiberTite Crossgrip is a two-layer roof walkway matting that protects the roof membrane, provides safe access for general maintenance works and is compatible with various roof surfaces.

Made from non-porous PVC with cross-directional top ribs and a 'diamond cut' surface for a firm underfoot grip, Crossgrip carries a 0.6/0.5 slip-resistant rating under ASTM 1677.

Impermeable in all weather, Crossgrip is a highly specialized matting system for flat roofs, gantries and high-level walkways. When laid flat it will remain stable in winds up to 60 mph (96 km/h*).
Benefits

Features

Certified slip resistance DIN 51130:R10 ASTM 1677:1.0/0.9
Excellent drainage DIN 51130:V10
Roof membrane protection
Compatible with PVC/KEE roof membranes
Quick to install
Contours to the roof structure
Loose lay, no fixing required
Long Life

Diamond cut pattern
Two-layer construction
Durable one-piece construction
PVC construction
Supplied in 33' (10m) rolls
Made from flexible PVC
Stable in winds up to 60 mph (96 km/h*)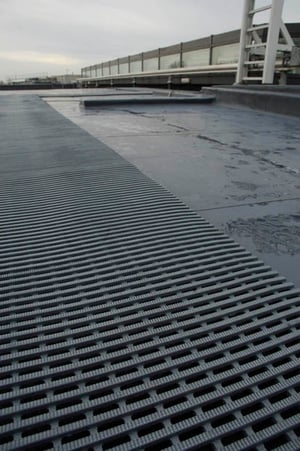 FTR Crossgrip is a loose laid roof walkway system designed for roofs with heavy maintenance traffic or extreme elements that make roof access challenging. FiberTite Crossgrip is an all-weather solution that can be repositioned, is self-draining, and is highly slip resistant. Proudly made in the United States, FiberTite currently stocks rolls of Gray Crossgrip 2' wide x 33' long (3' and 4' widths x 33' length sizes are available by special order).

FiberTite Crossgrip is a heavy-duty alternative to welded walkway systems and has gained "traction" in the industry.

Additional Roof Walkway & Protection Material
We offer a product to enhance roof traffic safety and optimize membrane protection in roof areas where frequent HVAC maintenance is required:
FiberTite TuffTrac is a high strength, textile-reinforced walkway material featuring the proprietary Seaman Corporation ELVALOY™ Ketone Ethylene Ester (KEE) formulation and embossed with a low profile diamond plate design in a high visibility yellow color.




Resources
*Tests at the University of Hertfordshire, School of Aerospace, Automotive & Design Engineering showed Crossgrip PVC When laid flat on a stable platform remained in position for wind speeds of 94 mph (150 km/h).