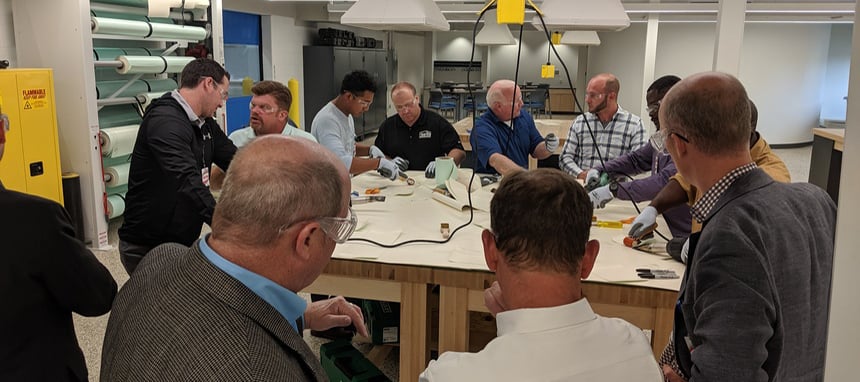 Wooster, OH (June 11, 2019) - FiberTite® Roofing Solutions, a Seaman Corporation brand, and single-ply roofing system leader in providing operational security to the world's most powerful brands, is pleased to announce the opening of The Seaman Training Center and the launch of FiberTite Training Series.

The Seaman Training Center, located at the Seaman Corporation Headquarters in Wooster, Ohio, is a state-of-the-art facility that includes a full classroom, workstations and climate-controlled roof simulator, all integrated with video recording and display capabilities.

"Most manufacturers have training programs, but we are really creating something unique," said Gary Pelton, FiberTite Technical Specialist, "We are bringing together our Authorized Applicators to build a functional multi-generational workforce that performs at the highest caliber."

The FiberTite Training Series now offers professionally designed workshops for FiberTite Authorized Applicators:
FiberTite Foreman Leadership Workshop - This course is for current or potential roofing foremen with at least four years of experience and would like to improve their leadership skills to achieve higher levels of quality, efficiency, and productivity.
FiberTite Installer Workshop - This is a hands-on course for FiberTite Authorized Applicators who are on the roof installing FiberTite roofing systems. The focus of the course is to teach installers the fundamentals of installation and associated best practices.
"We are proud to be part of the movement to move the commercial roofing industry forward through education and the transfer of knowledge to the incoming workforce," says Scott Gipson, FiberTite's Vice President, and General Manager.

To view the 2019 workshop schedule, find more information about open workshops, and to request registration, visit the FiberTite Training Series online at fibertite.com/training-series.
#######################
About FiberTite
FiberTite Roofing Systems provide operational security to the world's most powerful brands with an innovative, high performance coated fabric membrane. Since 1979, FiberTite has been protecting buildings, setting the performance standard in roofing with a proprietary, proven formula utilizing Elvaloy® Ketone Ethylene Ester (KEE). For more information, please visit https://www.fibertite.com.

About Seaman Corporation
Headquartered in Wooster, Ohio, with additional manufacturing in Bristol, Tennessee, Seaman Corporation is known worldwide for the production of high value, high-performance fabrics including FiberTite Roofing Systems, as well as products for architectural structures, Military applications, geomembranes, truck tarps, inflatable boats, and other products.