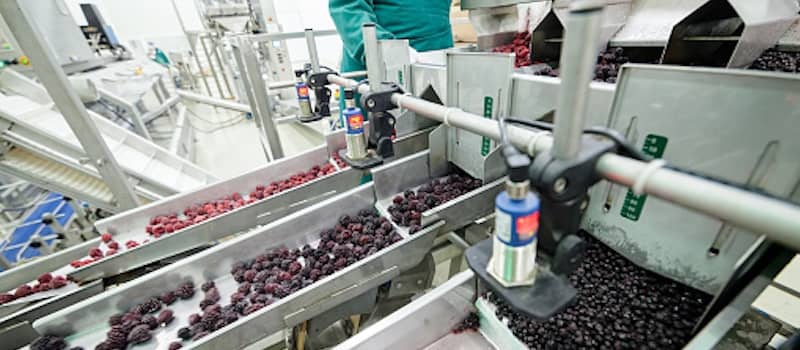 The food processing industry is like no other. As such, it brings challenges not found elsewhere, especially when it comes to the facility's roofing system. When contamination is not an option, food processing facilities need to protect their investments—now and for years to come.
In this article, we'll discuss the following topics:
Roofing: The first line of defense
Why is food processing a mission-critical industry?
The consequences of contamination
How a resilient roof protects your investments
What else should facility managers know?
In addition, readers will discover case studies, related articles and helpful tips for choosing a new roofing system. Let's get started.
READ MORE: Bakery Products Manufacturer Finds Sweet Roofing Solution
Roofing: The first line of defense
As most facility managers know, food contamination occurs when any foreign material or microbe comes into contact with the food being prepared or packaged. For this reason, manufacturers take great care to protect the integrity of their processes and keep facilities free from unwanted intrusions. This includes planning for the physical structure as well as the roofing system—the most crucial line of defense against outside contaminants.
Why is food processing a mission-critical industry?
Quite simply, food processing is a mission-critical industry, because problems due to contamination are never an option. Shutdowns from roof failures can be devastating in many ways. Think about the case of a global candy manufacturer. If a faulty roof system were to develop a leak that dripped into one of the vats, the batch would have to be discarded—at an estimated loss of $70,000 or more.
We have all heard stories of product recalls, and the numbers are typically in the millions (of units). Now multiply that by unit cost. Understandably, a well-performing, leak-free roof is mission critical.
What's more, the Food and Drug Administration sets strict rules and regulations for food processing to protect consumers. Penalties for noncompliance can be severe, and the FDA routinely inspects facilities for compliance. A ceiling water stain can be the telltale sign for the FDA to force a manufacturer to shut down before the unthinkable happens.
The consequences of contamination
There is no question that food contamination is a major concern for manufacturers. The good news is, a proper roofing system can help avert negative effects before they begin, such as:
Loss of product/investment.
Facility downtime.
Replacement and/or repairs.
Loss of revenue.
Complete facility shutdown.
Stock devaluation.
Lawsuits and penalties.
Reputation damage.
How a resilient roof protects your investments
For roofing systems, resiliency means the ability of a defined system to resist or limit the impact from a disruptive event and keep the building operational. Disruptive events include severe weather, environmental contamination, high wind, and man-made wear and tear. Resiliency also includes protection from UV light, punctures/impact, chemicals, roof exhaust, wind and fire.
For food processors in particular, resiliency also protects against a myriad of industry byproducts and contextual factors:
Greases, fats and oils – Most food processing facilities will exhaust these substances onto the roof through discharge vents. Very few roofing materials can withstand the ensuing buildup, which leads to an accelerated deterioration of roof membranes.
Chemicals – Industrial cleaning agents, atmosphere pollutants and ambient fuel/exhaust are just a few harmful chemicals that a roof system will be exposed to.
Temperatures/Refrigeration – Extreme temperature swings will fatigue or create thermal shock to roofing materials, weakening them and/or drying them out and causing brittleness. Certain parts of the country have to be mindful of extremes in either direction that could affect ideal temperatures within the facility.
Busy roofs/Pipe farm roofs – Most food processing manufacturing facilities have roof penthouses to house refrigeration equipment and the network of pipelines connecting these systems. Cold storage facilities often have multiple refrigerant pipe penetrations on the roof, increasing the risks of water leaks.
Heavy equipment – It is not uncommon to have rooftop carts and hand trucks used in the maintenance of the refrigeration units. Along with the proper care and preparation, roofing materials need to have the resiliency to perform under these harsh conditions.
In short, the more resilient the roof, the greater the comprehensive protection.
READ MORE: 3 Biggest Roofing Concerns For Food Processing Facilities
What else should facility managers know?
When researching a new roofing system, the best advice just might be to investigate existing roofs on buildings in your surrounding climate zone, if not your immediate vicinity. Lab tests are important, but real-world weathering tests are the ultimate proof. Find roofs that have endured for 25–30 years or more without failure. In addition, seek out a contractor with expertise in installing your preferred roofing system; the right contractor can make an enormous difference.
READ MORE: Tyson Foods (Case Study)
For food processors, the best-performing roofing systems need heavy reinforcement to withstand maintenance traffic, as well as strong chemical resistance to withstand the greases, oils and animal fats that may end up on the roof. A multi-ply hybrid system consisting of a modified bituminous membrane capped with a reinforced KEE membrane provides the best fortification against a broad spectrum of adverse conditions and effects.
The food processing industry is like no other; even the smallest roof leak can result in enormous costs and detrimental ramifications. When all these factors are considered, the least expensive roof will be the one proven to last the longest.