Craftsmanship that Lasts Decades
FiberTite technology delivers tough, long-term protection
The foundation of FiberTite is 60 years of high-performance fabric technology. FiberTite's 4-Layer technology synthesizes nearly twice as much fiber as competitors, and features a unique adhesive coat and a proprietary ELVALOY™ Ketone Ethylene Ester based formula. It combines to make FiberTite a tougher, lighter, more flexible and durable roofing membrane. Our high-denier, high-tenacity yarns are packed into a very "Tite" pattern that creates the roofing industry's toughest base fabric layer. That's why we've never had to change our formulation.
Fabric Layer
Base fabric much more important to puncture and tear resistance than thickness. FiberTite's proprietary knit design incorporates more fiber for unmatched strength and reliability.
Adhesive Coat
FiberTite's specialized adhesive coating process saturates the individual fibers of the base fabric, creating a molecular bond between the back and face coats of the membrane. This prevents delamination caused by harsh environments. It also keeps moisture from penetrating the cut edges of the membrane and causing seams to fail.
Back Coat
Many manufacturers use a cheap back coat formula that adds thickness and cuts production costs but doesn't protect well. FiberTite uses the same ELVALOY™ KEE based formula in equal weights on the back and face coats for exceptionally secure and lasting welds.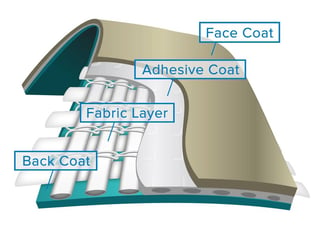 Face Coat
ELVALOY™ KEE is the polymeric backbone of FiberTite's face coat technology. A 30-year proven formula, this layer provides superior UV and chemical resistance, inhibits crazing and cracking, and allows the membrane to remain flexible over the long haul in any rooftop environment. Long-term flexibility makes FiberTite both incredibly long lasting and easier to weld for future rooftop modifications.
ELVALOY™ is a trademark of The Dow Chemical Company ("Dow") or an affiliated company of Dow.