A food processing facility in Ontario, Canada, upgrades its leaking TPO roof with FiberTite® XT for added protection and peace of mind.
Project Details:
Year:
2019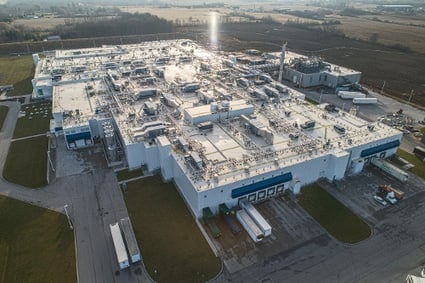 A food manufacturing facility in Ontario, Canada, had a 6-year-old thermoplastic polyolefin (TPO) roof that was in drastic need of replacement. The roof of the facility was pushed to its limits with rooftop equipment, long snowy winters, and, most importantly, foot traffic from maintenance crews.
Due to the wear and tear on their existing TPO roof system, the food processing facility experienced thousands of leaks over the years. These leaks not only posed a damage risk for the equipment, but it was also a safety hazard for their employees and even a health concern for their customers. It was critically important that the food manufacturing facility resolve their current leaks and prevent any more from occurring.
Read More: 3 Biggest Roofing Concerns for Food Processing Facilities
How to Upgrade a Food Processing Facility Roof System
The owners of the food processing facility knew that they wanted to replace the roof with another single-ply system, and they were initially looking into another TPO roof. This food processing facility needed a new roof system that was watertight, easy to install, and, most importantly, it required a puncture-resistant membrane that will hold up to mechanical damage and foot traffic.
Lucky for them, Bothwell-Accurate Co. Inc. and Landry White & Associates Consulting had experience with FiberTite and knew that FiberTite was the best option to keep the food processing facility operationally secure through the extreme challenges it will face.
Landry White & Associates Consulting visited FiberTite's headquarters in Wooster, Ohio. During their plant tour, they were able to participate in some hands-on education about how FiberTite is manufactured and installed. Through this visit, they were convinced that an investment in FiberTite was the right choice for this facility.
Designing and Installing an Operationally Secure Roof System
The food processing facility owners, Landry White & Associates Consulting and FiberTite, worked together to determine the most effective roof design, which included a new vapor barrier, polyisocyanurate, mechanically fastened HD coverboard and FiberTite 50 mil XT membrane.
Read More: FiberTite Mechanically Attached Roofing Systems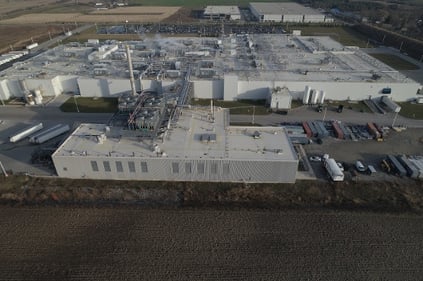 Bothwell-Accurate Co. Inc. had a big undertaking for this roof replacement project. The main goal of the project was to install a full roof system without disrupting the processing facility and the employees. This is not only important to the owners; the food processing facility is federally inspected regularly for public safety. The installation process took three months of planning and 18 months to complete, working through weekends and around inclement Canadian weather. With constant communication between the contractor and facility management, the installation was a success with no leaks throughout the process.
"With proper proactive maintenance, I expect over 30 years of high performance from this FiberTite Roof System," says Greg White, Landry White & Associates Consulting.
The puncture resistance of the FiberTite membrane is expected to hold up to the wear and tear of a food processing facility, and more precautions were installed to ensure the safety and longevity of the system. These precautions include:
Walkways to control foot traffic
Mandatory sign-in and sign-out sheets for maintenance personnel
Security video to monitor rooftop traffic
In addition to these precautions, Bothwell-Accurate Co. Inc. created a maintenance program to monitor the roof system and quickly catch anything that needs to be repaired, and with their new FiberTite Roof System came a 25-year full system warranty so they can trust the manufacturing and installation craftsmanship that is protecting their facility.
To view a PDF version of this Project Profile, click to download.