FiberTite protects the historic Grand Ole Opry House in Nashville.
Simulated Metal Roofing Project Details:
Name: Grand Ole Opry House
Date: 2017
Location: Nashville, TN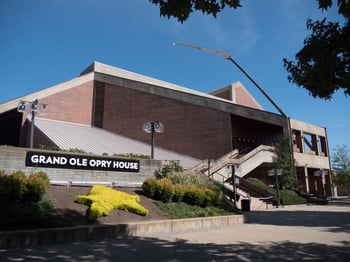 Project Story:
The Grand Ole Opry House in Nashville, TN, was built in the early 1970's as a dedicated venue for country music. Previously, the Ryman Auditorium was the home of the Grand Ole Opry and when the new Opry House was built, a six-foot circle of oak was cut from the corner of the Ryman stage and inlaid into center stage of the Opry House. This spot is referred to as the circle, where many country music greats have performed. This historic venue seats over 4,000 people on two levels and is often referred to as Country Music's Most Famous Stage.
A concrete tile roof was installed when the Opry was originally built to offer a unique, highly aesthetic look. After 43 years it was time to replace the roof, but maintaining the aesthetics and protecting this famous venue was a critical factor when selecting a roofing material. Another cement tile application was considered, but due to a history of leaks on the instantly recognizable steep-sloped trapezoidal roof, Richard C. Rinks & Associates, located in Cookeville, TN, recommended a FiberTite® Simulated Metal Roofing System in the slate grey color. Rinks is a leading building envelope and roof consultant located in the Southeastern Region, offering architectural design and engineering services since 1969. They carefully chose FiberTite based on their history with the product, the performance capabilities, long-term track-record, as well as the critical wind uplift standards and overall aesthetics.
Bruce Woodward, superintendent for Eskola Roofing, has been installing FiberTite roofing membranes for over 15 years and was the preferred contractor for this difficult job. After removing the original concrete tile, his crew installed FiberTite 60 mil fleeceback. It is adhered with CR-20 foam adhesive over a modified bitumen vapor barrier. The proven performance in puncture resistance, durability and moisture protection offers the owners peace of mind that this historic venue will be protected for many years to come.
Seaman Corporation, manufacturer of FiberTite Roofing Systems, has been a worldwide market leader of innovative, high performance coated fabrics since 1949. Using a unique, four-layer technology providing puncture, UV, chemical and ponding water resistance, FiberTite® is the original Elvaloy Ketone Ethylene Ester (KEE) roofing membrane with a 35+ year history of performance.
Seaman Corporation has manufacturing locations in Wooster, Ohio and Bristol, Tennessee. In addition to FiberTite, Seaman Corporation also manufacturers fabrics for more specialized markets, including military, dock seals, marine applications, pool covers, truck tarps, mower covers and others.