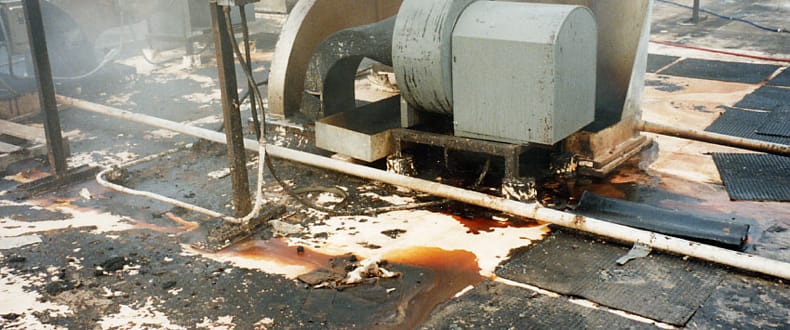 Matchmaking in roofing is a lot like dating — chemistry matters. Matching your needs up with the ideal roofing membrane for the task means looking at how the membrane is made and what it's likely to face in the years of work protecting your building.
Look at How It's Made
The first thing we all think of with roofs is keeping our building dry. All roofing membranes do that well out of the gate, but over time membranes degrade for various reasons. Many people consider the challenges of well-known threats like UV rays, foot traffic, storms and mechanical equipment when choosing a membrane. Chemicals and pollutants are far too often overlooked.
Every roof will face some chemical elements in its lifetime. That's because they are everywhere from pollutants in rainwater industrial emissions, leaks from HVAC units and vents from the very buildings they protect. Food processing plants and restaurants are particularly susceptible to damage.
That's why it's critical to consider chemical resistance as part of your roofing membrane decision. Different roofing membranes are made with different formulas, and each one reacts differently to chemical exposure. The wrong choice could cost you expensive leaks and repairs or even your whole roof.
Finding the Best Option
As you compare roofing membranes, be sure to ask providers about resistance to commonly found environmental contaminants and pay particular attention to chemicals you expect the roof to encounter. For example, a restaurant with a rooftop vent should ensure that the membrane can resist fats and oils. If your HVAC unit is on top of the building, make sure any chemical leakage won't cause costly roof damage.
In general, TPO and EPDM roofs can crack or swell when exposed to certain oils. Modified bitumen (mod bit) roofing can soften or even dissolve. FiberTite's Dow ELVALOY™ Ketone Ethylene Ester-based membrane is impervious to most oils and other contaminants, and we have the testing to prove it.
Check the Warranty
Having a salesperson promise performance is one thing. Ensuring that a manufacturer stands behind a product is another. Most warranties do not cover pollutants, so the damage they cause falls right back on the owner of the building. Read the fine print on a warranty before committing, and ask around and see how different roofing membranes fare when used on similar buildings. Track records matter.
Learn More
To learn more about how TPO, EDPM, PVC, mod bit and FiberTite react to contaminants differently, download our whitepaper. If you'd like to learn more about FiberTite in general, contact us.
ELVALOY™ is a trademark of The Dow Chemical Company ("Dow") or an affiliated company of Dow.