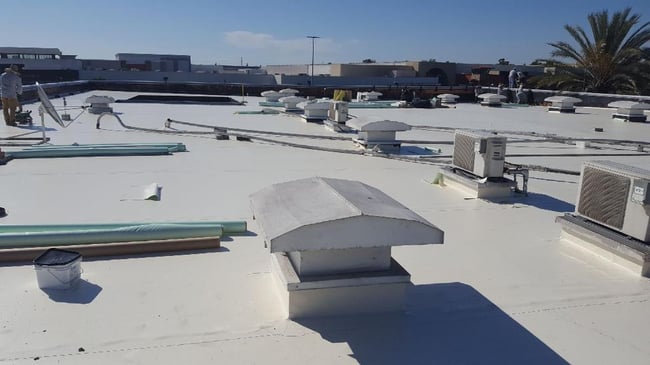 Building owners rely on architects to bring their vision of the commercial space to life, design buildings to code and oversee project construction to ensure their vision is being realized. In this role as trusted advisor, an architect must understand the purpose of the structure as well as the importance of that purpose.

From an ownership perspective, the highest priority is a roofing system that is resilient in terms of being durable (regardless of circumstance) and long lasting —while also maintaining the delicate of balance of a budget appropriate life-cycle-cost for the system. In this article, we'll explore the following topics:
What is resilient roofing?
What is resilient roofing?
How to talk to building owners
Protecting their investments
Design and color questions
The crucial role of trusted advisor

Our goal is to provide you, the architect, with the tools needed to design a resilient roof system, discuss roof resiliency with building owners and ensure that your plans meet or exceed relevant code and performance requirements.

What is resilient roofing?
For roofing systems, resiliency means protecting a building's ability to remain fully operational despite severe weather events, environmental contamination and man-made wear and tear. For some facilities, roof resiliency is crucial. Consider:
An automotive facility located in the Midwest's Very Severe Hail (VSH) zone
A package distribution center that is exposed to chemicals from the surrounding environment – like the flight paths of a busy airport system
A condo facility located in coastal Florida that extreme wind uplift protection
READ MORE: Resilient Roof Systems: What Are They and Why Are They Important?
And then there are those businesses where a roofing failure is never an option. Hospitals and critical care facilities must remain operational; food processing facilities cannot have contamination; data centers cannot experience water infiltration. Building owners are aware that they need protection, but they may not be familiar with the term "resiliency."
How to talk to building owners
A great way to start the resiliency conversation with a building owner is by asking a simple question: What is the cost to you if this facility shuts down for one day? This line of thinking cuts to the chase and tells you exactly where the owner stands in relation to the building's importance. In addition to monetary impact, shutdowns can also lead to a decline in:
Revenue/Earnings
Share value
Brand reputation
Shareholder confidence
Employee retention
An operational failure at a critical facility can take months—or even years—to fully recover from. The vast majority of building owners have significant concerns about critical equipment failure in general, let alone from the roof system specifically being the cause of this issue. Building owners can prevent a myriad of problems and headaches simply by installing a proven and effective resilient roof system.
Protecting their investments
A properly installed resilient roof system protects buildings in the following ways:
Puncture resistance: protection from hail, debris and foot traffic
UV protection: guards against prolonged exposure from sunlight
Wind uplift protection: fortification against wind events
Chemical resistance: defense against pollutants, emissions, byproducts
READ MORE: Why Very Severe Hail Is Important to Business Owners
---
Design and color questions
For architects in particular, it's important to note: Resilient roof protection will not affect a building's aesthetics. In other words, architects can still maintain the integrity and beauty of their original plans, while still meeting the owner's top priority of having a durable and long-lasting roof system.
Questions around style and design are as relevant to Architect's as performance would be. Here are a few examples of potential questions that may arise, followed by helpful answers.
Question: Are there limitations on color options?
Answer: No! Some resilient roofing systems offer an extensive range of colors to complement any design motif or artistic vision.
Question: Can you put a resilient roof on a dome or angled structure?
Answer: Absolutely. There are proven industrial-coated fabrics with the flexibility to accommodate unique shapes and sizes.
Question: Will I need to spec a thicker roof for protection?
Answer: Not anymore. Like many industries, Roofing products have evolved toward thinner solutions with equal and often better performance.
---
The crucial role of trusted advisor
If your client owns a critical facility, needs protection against extreme weather elements or is located near any source of potential contamination (airports, industrial districts, etc.), a resilient roof system is the best solution. As a trusted advisor, you can recommend and deliver 360 degrees of protection for that roofing system, including chemical, puncture, fire, UV, and wind resistance.
Many roofs fail after just 10–15 years; a resilient roof system can last 25–30 years or more. Learn more about the proven fiber reinforcement, formula and longevity of FiberTite.

Building owners rely on trusted advisors to protect their investments, ensure long-term durability and guide the aesthetic vision. A resilient roof system enables you to accomplish all this without the slightest compromise to the finished product.