There's a Reason Pigs Don't Fly.
FiberTite is your single source for the
truth.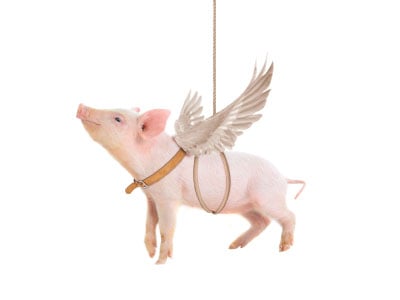 Our formula is based on proven science that comes from more than 40 years of KEE membrane experience and more than 65 years of fabric expertise. The proof is in our:
1. PROVEN FIBER REINFORCEMENT.
Our high-denier, high-tenacity yarns are packed into a very "Tite" pattern that creates the roofing industry's toughest base fabric. The proprietary knit design provides superior puncture and tear resistance.

---
2. PROVEN FORMULA.
Our formula includes the highest DuPont™ Elvaloy® Ketone Ethylene Ester (KEE) content, allowing our roofing membranes to maintain excellent flexibility, as well as chemical and UV resistance. Combined with our four-layer technology that synthesizes nearly twice as much fiber as competitors, you get a tougher, lighter, more flexible and more durable roofing membrane.

---
3. PROVEN LONGEVITY.
Our history of proven longevity and performance cannot be matched because the correct amount of KEE can only be determined by real-world weathering and endurance. Ours is the only roofing membrane that exceeds ASTM D-6754, a standard designed specifically to define which products are truly KEE membranes and which are not. As the only manufacturer that meets the criteria, we can assure customers that our roofing systems will result in increased building performance through energy efficiencies, durability, stability and overall life cycle cost. We've been using the same formula for 40-plus years and have roofs still in service after more than 25 years.

---
Don't stake your reputation on unproven imitation.

Only FiberTite roofing systems combine proven chemistry with fabric expertise to deliver the strongest, most enduring protection against punctures, chemicals and weathering. Only FiberTite provides operational security for the world's most powerful brands. Learn more about the FiberTite story.



Visit our contact us page or contact your sales rep for more information.