Any sufficiently advanced technology is equivalent to magic.
– Sir Arthur C. Clarke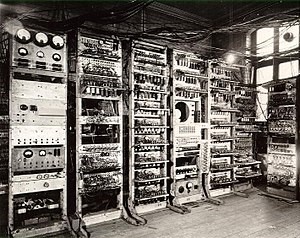 The first computers were so large that warehouses were needed to store them. Car phones (yes there were car phones) were larger than the landline in someone's home. Winter jackets were once so awkwardly large that skiers would rather freeze than wreck on the slopes. And as late as the early 2000s, "advanced" hard drives in PCs were larger than iPhones today.
But today in 2020, a nominal 36-mil ELVALOY™ KEE Membrane introduced in 1979 is higher performing and lasts longer than even the newest and thicker 60-mil, 80-mil or even 90-mil PVC's or TPO's in the harshest rooftop environments.
In most cases, technology evolves over time. In most industries, that evolution of products is driven by being economical around the space the product takes up … not value-engineering the product itself. The adage is: Because it is better, we made it thinner. It's the natural evolution of technology. But not in commercial roofing, and there is a reason the best product (and subsequently the thinnest) was developed in 1977 and introduced in 1979 as FiberTite.
And this is the paradigm battle of today.
How do you explain that the technology of performance is devolving and not evolving over time because the standard was set in 1979?
It can be tempting to believe that thicker is better based solely on the way it feels. For example, have you ever been given a sample and were asked to feel the heft of the 80-mil TPO or PVC? My goodness they put a lot of "stuff" in that.
The truth is that the industry has both knowingly and unknowingly accepted that thicker roofing membranes are designed to allow that "stuff" to migrate or leave the sheet over time – whether it is the unavoidable plasticizer migration in a PVC or the generally accepted chalking of a TPO due to weathering exposure or abrasion. Yes, that is the intent of the design: Add enough of the "stuff" because it is going to degrade over time.
Essentially, these thicker membranes are made by adding more and more chemicals, filler, and additives that will wear away over time, so – in the end – you are buying simply the perception of performance, but not actual better performance.
The exception to the thickness paradigm.
Seaman Corporation's original XR-5® product is the origin for the FiberTite story. It started one day in the 1970s when a crew was at a commercial building installing a geomembrane for the purpose of water containment. As fate would have it, a team of roofing contractors were there the same day. They were all intrigued by how thin the membrane was and how much easier it was to install than what they were working with, not to mention the heavy work that it was designed to do without losing its integrity over many years.
That's when the idea came to life: this thin, yet strong, membrane could have life beyond its current use as a barrier to water and harsh chemicals. It was the perfect roofing solution.
FiberTite is the one exception to the thickness paradigm. In the case of roofing membranes, the thinner, higher-performing product came first. At a nominal 36 mils, FiberTite's single-ply roof membrane achieves many things that the competition cannot, including being the only membrane to meet (and exceed) the ASTM D6754 standard for Dow ELVALOY™ Ketone Ethylene Ester (KEE) content.
The FiberTite roofing membrane is designed to retain a majority of its original physical properties and thickness over time, making it a leader in long-term performance and resiliency decades after its installation.
What makes FiberTite different?
Where many companies design their roofing membranes from the outside in by adding polymers, FiberTite is engineered from the inside out using the same base technologies that protect the environment from oil spills and contain wastewater. In short, it is inherently designed for better performance.
Here's what makes the difference:
The base fabric. It all starts with high-denier, high-tenacity yarns that are packed into a very "Tite" pattern. This base fiber is produced by FiberTite's parent company, Seaman Corporation. As a vertically integrated company, we have the advantage of having complete control over our quality, design and supply chain with manufacturing done in the U.S.

Where the competition most likely outsources loosely woven "scrim," FiberTite's proprietary knit and woven fiber provides strength from its foundation that makes it highly resistant to punctures and tears. But don't take my word for it: see the performance data.



Chemistry.

Others have sprinkled in ELVALOY™ KEE, but none have the level of ELVALOY™ KEE content to meet the ASTM D6754 and none have 40-plus years of proven performance across many demanding applications. FiberTite's formula cannot be matched because it is a time-tested perfected balance of polymers to endure the elements long term. See our systems that are still providing maintenance-free performance after 25+ years

.
Four-layer design. In addition to the fiber base, FiberTite's proprietary four-layer composition also includes a high-performance face coat (for long-term weatherability performance), an equal partner in the back coat (that includes equal levels of ELVALOY™ KEE designed to bring exceptionally secure and lasting welds to the system) – all of which are brought together with an adhesive coat (designed to create a molecular bond between the back and face coats). It is this smart design from the inside out that enables FiberTite to resist weathering, sunlight, severe hail, impact and leak-causing punctures in a much thinner roofing membrane.

Changing the paradigm in commercial roof systems.
Some of the earliest "car phones" weighed 80 pounds and had only three channels for everyone in the city. If someone handed you that or the smartphone sitting next to you, which would you choose?
Clearly, you'd go with the sleeker, more powerful design. Why should your roofing membrane be any different? It's time to change the conversation and realize that thicker is not better. But, again, you don't have to take my word for it. FiberTite is proven in both the lab and the field to be higher-performing, longer-lasting and require much less maintenance over time.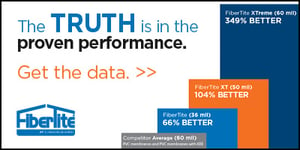 See how FiberTite's performance
compares to the competition>>>
ELVALOY™ is a trademark of The Dow Chemical Company ("Dow") or an affiliated company of Dow.